About Us
We are an established solicitors and estate agency office located at 1 Inverleith Terrace since 1988. We are a two-partner firm with over 60 years of combined experience through David Devlin and John Hughes. We pride ourselves on the personal and professional attention we give our clients at all stages of each transaction.
We also operate an experienced and dedicated property department who are friendly, approachable, professional and efficient. We offer free pre-sale market appraisals, and a comprehensive marketing service. We have many years' experience of dealing with purchases and sales and enjoy a good and successful relationship with clients, most of them coming to us through personal recommendations.
We are entirely flexible with our working hours and the Partners and Property Manager (Barbara Gordon) are happy to see clients from around 8am, with appointments also available after the usual 5pm closing time. A partner is usually available on a Saturday morning and we can also be contacted by e-mail, fax, and telephone or by using our voicemail answering service.
---
Platinum Award for Connor Malcolm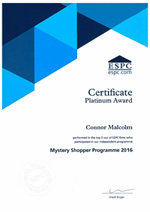 We are proud to have performed in the top 5 in ESPC's Mystery Shopper Programme 2016.
Meet our Team
Hover over a photo for a brief introduction.
David Devlin

Partner

A Qualified Solicitor with over 40 years' experience, David has knowledge and experience in all aspects of residential conveyancing, Wills, Executries and Power of Attorney cases, and his attention to detail allows him to anticipate any problems, thereby providing clients with comfort and security in the knowledge that their transaction will be carried out as smoothly as possible. He always takes time to explain in a comprehensive, clear and concise manner the elements of a client's transaction.

John Hughes

Partner

John has also been a Qualified Solicitor for more than 35 years and as well as dealing with all aspects of residential conveyancing, Wills, Executries and Powers of Attorney, he also deals with commercial purchases, sales and leases. He provides clients with a friendly and supportive service throughout.

Barbara Gordon

PROPERTY MANAGER

Barbara has been with the Firm since 1998 and heads our Property Department. She has worked in the Edinburgh and Lothian property market for over 25 years, and uses her experience to guide clients through transactions (which can be stressful for some home-movers), thereby giving her a well-deserved reputation for making the buying and selling of properties as stress-free as possible.

Anne Izatt

Paralegal

Anne joined the Firm in 1999 as an experienced secretary, but developed a desire to take a step up to carrying out conveyancing as a Paralegal. She qualified in 2005 and now works closely with the Partners to provide a competent and efficient service to all our clients. She frequently deals with younger, first-time buyer clients, guiding them through the intricacies of transactions from start to finish.

Jackie Glanville

HEAD CASHIER

Jackie joined the Firm in 2006 and leads our cashroom section. She has 32 years' experience as a legal cashier and still frequently continues to update her professional development through courses and seminars, ensuring that the cashroom in the office runs smoothly and efficiently. Her attention to detail is appreciated by all clients and staff alike.

Sheila Combe

ADMINISTRATIVE ASSISTANT (PROPERTY)

Sheila joined us from a large estate agency in Edinburgh in 2008 and deals with organising viewings, providing a competent and professional support service to our clients. She is the one who has most telephone contact with the clients and speaks to them a minimum of once a week, but more often than not, on a much more frequent basis. She is renowned for her care and attention to detail which is appreciated by all our clients who know that their marketing is in safe hands with her.

Nicky Paterson

ASSISTANT CASHIER

Nicky is the longest-serving member of staff in the Firm, having joined in 1997 after training with another Firm in Edinburgh. She assists the cashier with the day-to-day transactions and provides support when required. Her enthusiasm for figures ensures she is competent and proficient in her work providing the Partners and the Head Cashier with everything that is required.

Maureen Steele

Margaret Purves

Administrative assistant (Property)

Margaret Purves joined us from a large surveying company and has now been with us around 4 years. She brings a wealth of experience to the position and is very adept at arranging viewings and obtaining feedback for the clients which they find extremely helpful.
"I have used Connor Malcolm Solicitors to buy and sell properties, and the service and customer satisfaction has been excellent. The staff are very helpful and knowledgeable, and they help you every step of the journey. I would definitely recommend the services of Connor Malcolm."MR DAVIDSON